Update
Details

Published: 26 February 2019

26 February 2019
A new year and a new beginning for the web page. Our first Palmyra Dairy Queen Palmyra is April 7,2019. It will be once again 3- 6 p.m. The Campbelltown car show is at the Campbelltown Fire Co. grounds again this year and will be from 9 am - 3pm.  We hope the weather is a little cooler this year. We are ready to receive sponsors, award plaques sponsors and things for the basket raffle. All vehicles are welcome again this year, so come early as the good parking spots go fast. I hope to post the flyer after meeting the host for our web site this week, although you may see it posted on our face book page. Our old face book page was hacked and a new one started, so it is a work in progress.
  We are a non-profit club and even with a lot of shows being rained out last year we were still able to donate a little over $5000.00 to local charities, so thank you for your help in making this possible. I will try to do a better job in keeping this updated this year, sometimes not enough hours in a day.
April/May 2016
Details

Published: 25 April 2016

25 April 2016
The Sledfest Car Show is this Saturday April 30th in Duncannon and some very interesting cars show up. Glen Myers and Ken are leaving McDonald's on rte 39 next to the Pilot Gas station - 8 a.m. sharp, if anyone wants to go along. Sunday May 1st is the Palmyra D.Q. "cruise in" 3-6 p.m. with the Country Cruisers & "Rockin' Charlie". Monday May 2nd is the club meeting (not Saturday) starting at 6 p.m. & we are having Pizza as our meal, everyone is welcome. This will be a busy weekend for the Country Cruisers. 
April 2016 Palmyra D.Q. & Club meeting
Details

Published: 07 March 2016

07 March 2016
As we look forward to April 2016 the cruising season gets underway with our first Palmyra D.Q. to be held on April 3rd 3-6 p.m. We already have dash plaques made up for the first three shows. This will be one of the first shows in this area and if the weather is good we are expecting a great turnout. Anyone wishing to have their ride on a dash plaques needs to get a picture of your car to us.  Our next Club meeting will be on April 2nd starting at 6 p.m. and this will be the last Saturday meeting until after cruising season, the next meetings will be held on Monday and sub's will be our featured meal for the April meeting. Time to get those rides shined up so they will look good for pictures and possible posting of them. It will be great to renew old acquaintances and friendships.
Winter time is here in Pa.
Details

Published: 26 January 2016

26 January 2016
Winter is here in January 2016 along with all the snow and I am so looking forward to spring car shows. It is always nice to see how cruisers have upgraded their rides or have new ones. I believe our April 3rd (4-7 pm) Palmyra D. Q. "cruise - in" is one of the first local shows. We usually have a nice turn out because of that fact and it is nice to renew old friendships. Rockin' Charlie will do the first show and I have found some different (seldom heard) Oldies/Doo Wop for you listening pleasure and it is always nice to have cruisers come up to ask who does that song.
Our next meeting is on Feb.6th starting at 6 p.m. with our "pot luck" meal to be followed with the regular meeting. Our membership is always open and new members are welcome. The flyers for the July 3rd Campbelltown Car Show should ready by that meeting and last year's participates will have theirs mailed. The first registration was received on January 25th, last year's show had over four hundred singed in.  
November 1, 2016
Details

Published: 10 January 2016

10 January 2016
As you can tell by the cooler weather the cruising season is about over for the year. The Country Cruisers has one more Palmyra Dairy Queen which will be Sunday November 6th from 3-6 p.m. "Rockin' Charlie" will be playin' the music at this last show and the weather looks good for this time of year. Our November meeting moves to Saturday evening Nov. 5th starting with our meal at 6 p.m. Nominations for next year's officers will be held at this meeting, everyone is welcome. 2017 yearly dues can be paid at this meeting
October 2015 Update
Details

Published: 20 October 2015

20 October 2015
Fall is in the air and our last Dairy Queen car show will be Nov. 1, 2015 from 3-6 p.m. It has been a good year for our club and with that we will be able to donate a good deal of money to local charities again this year. Our next club meeting is on Nov.7th and please note this is a Saturday instead of Monday. The meal for the meeting is Pizza. The November & December meetings continue with nominations for club officers. Elections are at the December meeting and any new officers are installed at the January 2016 meeting. The club's Christmas Party will again be at the Campbelltown Fire Hall Dec. 12th. with more information to follow. The Ocean City, Md. Endless Summer car show had three club members win awards, John Kiscadden, Harry Walmer and Jeff Myers. The club also was 3 runner up for most out of state registrations. We hope to do better next year and as soon as we get a contract for the Hotel we will post it.
June/July 2015 update
Details

Published: 23 June 2015

23 June 2015
June is almost over and it has been a good month for our members attending car shows. July will not have any Palmyra Dairy Queen car show, as our Campbelltown show will be held July 5th. The Campbelltown show is really taking shape with almost all preparations having been completed. We are currently waiting for the awards and dash plaques to be finished, the Chinese auction & basket raffle items are ready to go. A few items continue to arrive although most have already arrived. Registration for the show has been good and now all we need is good weather. July 25th is the date for our Knoebels picnic and Gerri will continue to take sign ups for this event at the July club meeting.
Award Sponsor Letter 2015
Details

Published: 19 February 2015

19 February 2015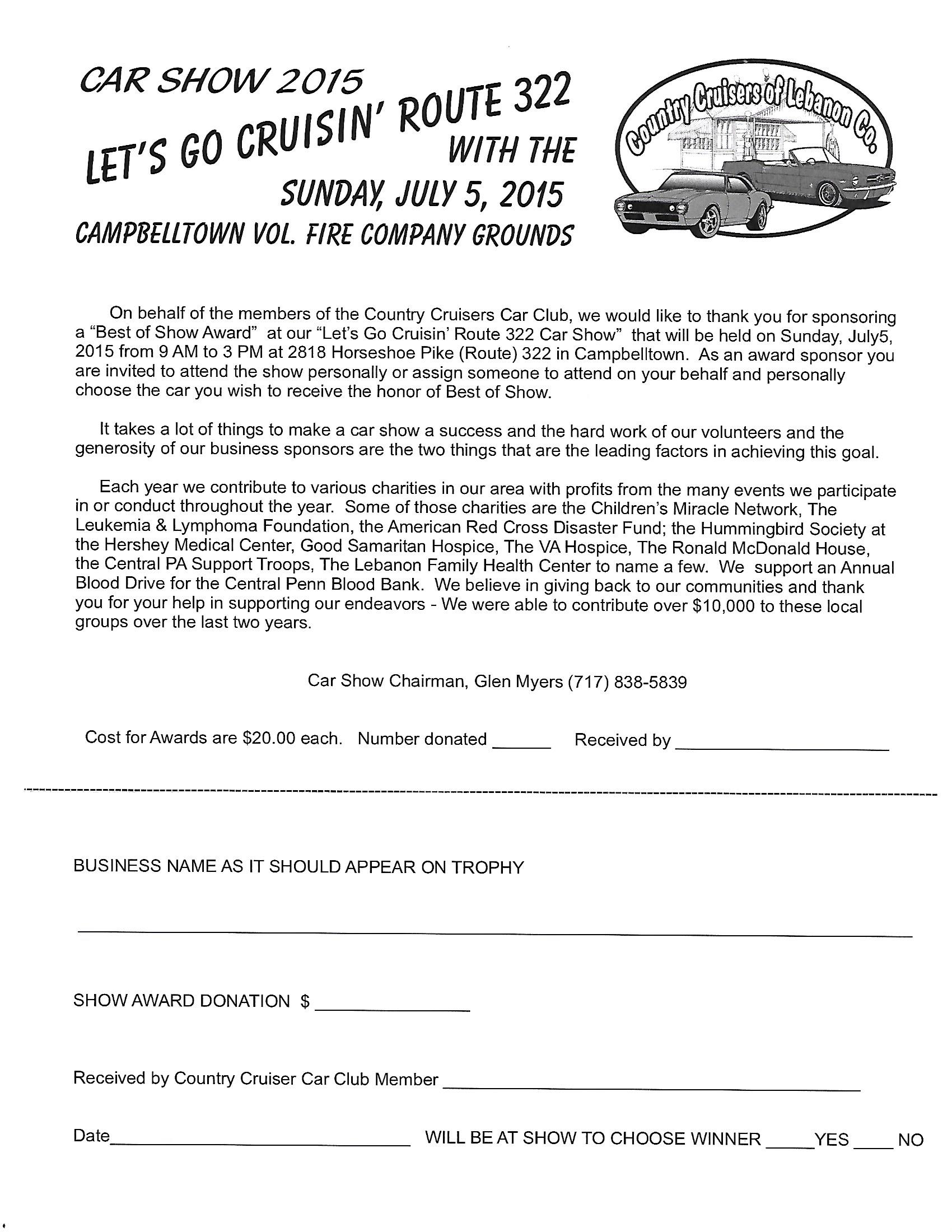 Dairy Queen Car Shows
Details

Published: 10 February 2015

10 February 2015
The first Palmyra Dairy Queen Car Show of 2015 has been moved from April 5th to April 12th. The club made this decision because the 5th is Easter weekend and it is usually family time with your beliefs.
2015 New Year
Details

Published: 23 January 2015

23 January 2015
   The Country Cruisers of Lebanon County had another great year with the club donating $4977.00 to the charities we support. We are a non-profit organization and give most of our donations from our car shows to worthwhile charities, except for expenses used to operate our club. Once again we thank everyone who supported us and our charities. We as a club will strive to have another great year in 2015. April is not that far away and we will start with our Dairy Queen shows. If interested who we donate to, ask any club member what charities we support at any of our car shows including the Campbelltown show. The Campbelltown show will again be held in July. Membership to the Country Cruisers is always open and you do not need a classic car or hot rod to join. Activities for this year will include the  summer picnic (Knoebels), Pigeon Forge, Tenn., Bloomsburg, Ocean City, Md. and of course the Christmas party. We also get together to do dinner cruises during the year.