October 2015 Update
Details
Fall is in the air and our last Dairy Queen car show will be Nov. 1, 2015 from 3-6 p.m. It has been a good year for our club and with that we will be able to donate a good deal of money to local charities again this year. Our next club meeting is on Nov.7th and please note this is a Saturday instead of Monday. The meal for the meeting is Pizza. The November & December meetings continue with nominations for club officers. Elections are at the December meeting and any new officers are installed at the January 2016 meeting. The club's Christmas Party will again be at the Campbelltown Fire Hall Dec. 12th. with more information to follow. The Ocean City, Md. Endless Summer car show had three club members win awards, John Kiscadden, Harry Walmer and Jeff Myers. The club also was 3 runner up for most out of state registrations. We hope to do better next year and as soon as we get a contract for the Hotel we will post it.
June/July 2015 update
Details
June is almost over and it has been a good month for our members attending car shows. July will not have any Palmyra Dairy Queen car show, as our Campbelltown show will be held July 5th. The Campbelltown show is really taking shape with almost all preparations having been completed. We are currently waiting for the awards and dash plaques to be finished, the Chinese auction & basket raffle items are ready to go. A few items continue to arrive although most have already arrived. Registration for the show has been good and now all we need is good weather. July 25th is the date for our Knoebels picnic and Gerri will continue to take sign ups for this event at the July club meeting.
Award Sponsor Letter 2015
Details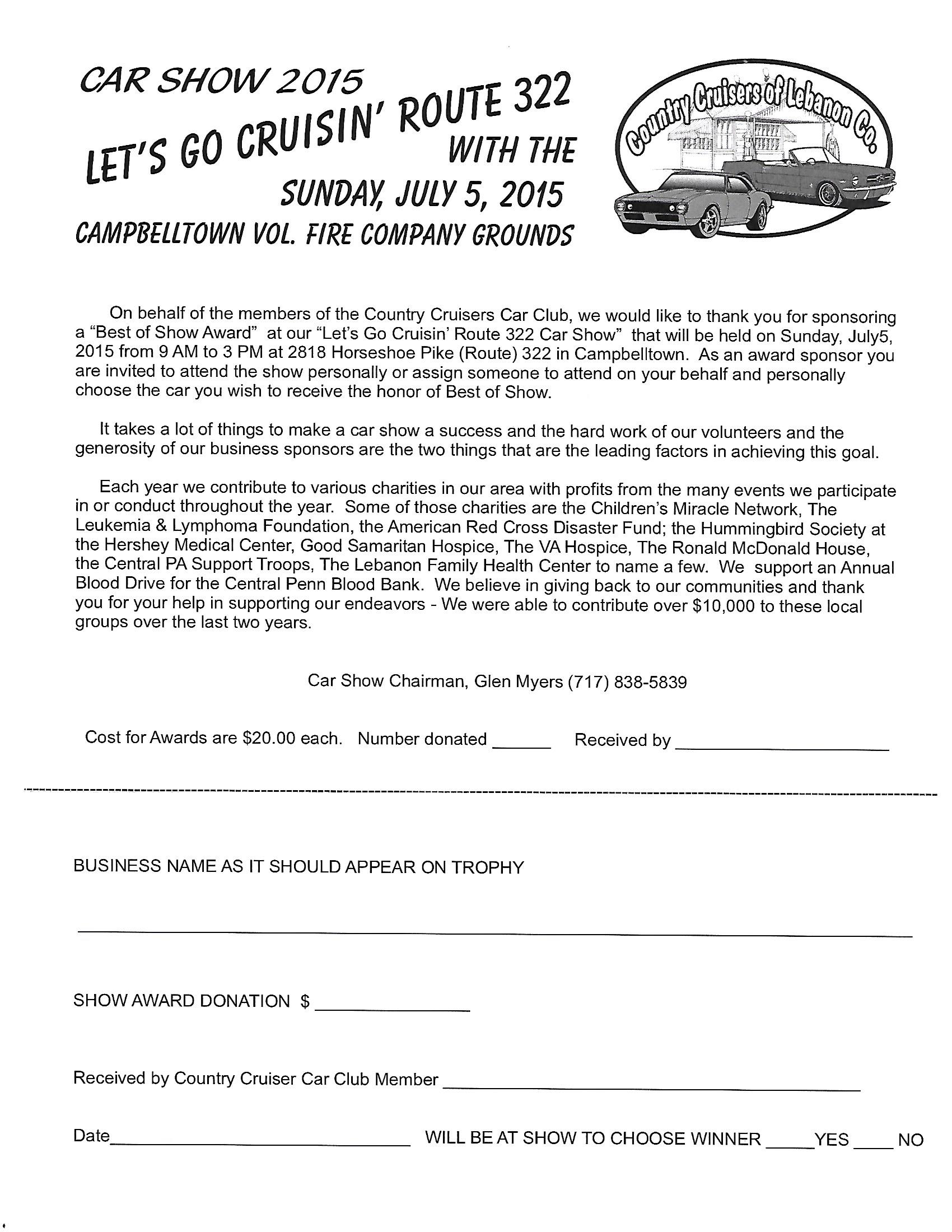 Page 2 of 3
Warning
: Illegal string offset 'active' in
/home/cclc/public_html/templates/js_active/wright/html/pagination.php
on line
29
Warning
: Illegal string offset 'active' in
/home/cclc/public_html/templates/js_active/wright/html/pagination.php
on line
35
Warning
: Illegal string offset 'active' in
/home/cclc/public_html/templates/js_active/wright/html/pagination.php
on line
29
Warning
: Illegal string offset 'active' in
/home/cclc/public_html/templates/js_active/wright/html/pagination.php
on line
35
Warning
: Illegal string offset 'active' in
/home/cclc/public_html/templates/js_active/wright/html/pagination.php
on line
29
Warning
: Illegal string offset 'active' in
/home/cclc/public_html/templates/js_active/wright/html/pagination.php
on line
35
«
Start
Prev
1
2
3
Next
End
»
President: This email address is being protected from spambots. You need JavaScript enabled to view it.
Vice President: This email address is being protected from spambots. You need JavaScript enabled to view it.
Secretary:  This email address is being protected from spambots. You need JavaScript enabled to view it.
Treasurer:  This email address is being protected from spambots. You need JavaScript enabled to view it.
This email address is being protected from spambots. You need JavaScript enabled to view it.